License Plate Lookup - How to Search License Plate Numbers Online
Posted by on

January 15th, 2010


Updated on

June 9, 2019



OK, so you've got someone's license plate number. Now what?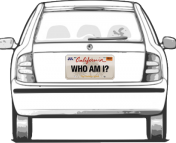 If you head online to try and track down the name and address behind it, you'll find a near-endless array of promises from license plate number search companies. They'll offer things like "free searches", "instant results", and even "unlimited searches".
Unfortunately, this is only good sales copy. These promises don't actually work out in the real world!
A Free License Plate Lookup?

Let's start with the "free" part. Common sense should tell you that NOTHING is free. Sure, you might get your first lookup done for free — but only after you sign up for a monthly subscription that definitely isn't free. No matter what the ad says, you're going to wind up spending money by the time all is said and done. And, adding insult to injury, the information you get will likely be worthless because these companies don't use up-to-date databases.  They can't.  (see next paragraph). All you are likely to get is the previous car owner or a vehicle history report.  If you want current license plate information, meaning, the current registered owner name and address, you'll need to search with a company like Docusearch.
Let's move onto the "instant results". For all of you non-techies out there, in order to get instant information, the records must already be on the website's server. But if you call the Department of Motor Vehicles in ANY state, they'll tell you that current vehicle ownership records are NEVER sold to anyone who isn't in law enforcement or a licensed professional. Since your potential database company doesn't fit into either category, they'll be stuck with what the Department of Motor Vehicles DOES sell — old records that don't contain accurate ownership names and addresses.
What about those "unlimited searches" you've been promised?
A license plate number search company may actually offer you unlimited access to its database. The only problem? Their database is made up of all those old, inaccurate records. Making matters worse, you usually have to pay a pretty penny to get this unlimited access. For the database company, it's a good deal — you pay them a small fortune, and they give you garbage information. For them, it's pure profit! For you, though, it's a complete waste of time and money.
Let's recap: Can I Perform a License Plate Number Search Online?
There is no accurate,

free

license plate number search.
Any "instant search" will likely return previous owner data.
Unlimited access databases has no benefit.

OK, so what do you do with that license plate number? Is there any way to get the CURRENT name and address behind it?
Yes!
License Plate Number Search in One Hour.
To do it,  you need to look for a team of investigators that are licensed to perform the search in your state. Docusearch only runs license plates and VIN number lookups in states that we have direct access, currently 37 states (listed below). Each is searched by hand and guaranteed to return the current registered owner. That means you won't get instant results. Most states we can process and return in less than one hour, however some take a few days. Yes, you can find address by license plate number.
Remember, there is no subscription to buy or monthly commitment. You only pay for the search you need.
As long as you've got the right people doing the work, you'll be able to rest easy knowing that you're getting accurate information that you can actually use!
Get more information regarding our license plate number search or select one of the following available states:
Other Recommended Resources:
License Plate Lookup Scam Alert — Always Read the Fine Print!
License Plate Number Lookup Guide For Your State