Details
Includes:
Identifies All Bank & Brokerage Accounts Nationwide
Accounts Associated with a SSN and EIN
Account Titles, where available
Account Types
Approximate Account Balance, where available
What's Needed:
Subject's Full Name
Last Known Street Address
Social Security Number
Helpful: Date of Birth
This search combines two of our most popular asset location tools plus adds the opportunity to find any business accounts associated with your subject.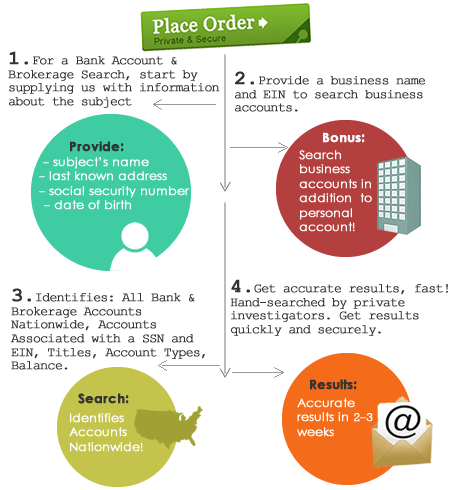 The objective of this search is to 1) identify open/active accounts for the purpose of judgment collection, or 2) assist your attorney in locating accounts which may be hidden or not reported in divorce discovery, or 3) to determine financial solvency prior to litigation. Docusearch is staffed by real, licensed private investigators and professional skip-tracers specializing in the location of hidden assets. We will conduct a thorough nationwide search of all major brokerages and banks  (both brick & mortar and online). Results will include brokerage/bank name, address, account type, account title and current approximate account balance, where available. (No account numbers will be returned) We will not stop searching once an account is located. We will continue to search all major brokerage firms and banks, nationwide.  If you include your subject's business name and Federal Employer Identification Number (EIN), we will search the business entity as part of the search.  Your subject will not know that he/she has ever been searched.
Nationwide Bank and Brokerage Search
Provide us with:
Social Security Number
Last Known Street Address
Subject's Full Name
Helpful: Date of Birth
Privately hand-searched and includes:
Approximate Account Balance, where available
Account Titles, where available
Account Types
Accounts Associated with a SSN and EIN
Identifies All Bank & Brokerage Accounts Nationwide
* Search fee is $499 plus $50 for each open account identified. If no open/active accounts exist or are located, we will refund your entire search cost less a $125 research fee. Client may exclude known banks, however doing so voids the no-find guarantee.  Call us for further information or read the FAQ's below.
Frequently Asked Questions
Q: How do I find a person's hidden bank account?
A: Hidden or not, Docusearch can find most, if not all bank accounts associated with an individual provided with the subjects full name, SSN, street address, and date of birth. Simply click the 'Place Order' button to get started. We'll ask you for the details needed to perform the search and then return the bank account information within 7-14 days – sent to your secure Docusearch account.
Q: I'm getting a divorce, can I find my spouses bank accounts for court references?
A: Yes, in fact it is very common for people to have hidden bank accounts when getting a divorce. Our hidden bank account search will find all bank accounts nationwide.
Q: Will the person know that I am searching for his/her bank accounts?
A: No, the individual will never know that you are searching for their hidden bank accounts.
Q: I'm suing someone, is it possible to find all of their bank accounts for when I go to court?
A: We can locate hidden bank accounts of the person you are suing. Please keep in mind that our return time for this search is between 7-14 days so it is important to do this search well before your court date.
Q: Can I be guaranteed that every account will be found?
A: Unfortunately not. Although not 100% effective in locating every account a person or business may hold (no system is), our methods have proven much more effective/reliable than any other.
Q: Can I be assured that I will receive the current balance of every account located?
A: Every effort is made to return the current approximate account balance, however the subject may have an opt-out agreement on file with the bank/brokerage and may not be available. However, we do not charge account fees for accounts found without balances or account balances of less than $100.
Q: I suspect you will find many open accounts with high balances.  Is there a maximum charge for accounts found?
A: Yes, for subject's with numerous accounts, the maximum account fee charge is capped at $500. (10 accounts, each with a current balance over $100).

Q: Can you locate closed accounts?
A: We do not specifically search for closed accounts because banks are not obligated to report them. If they are reported, we will include, however closure dates are not likely and may require an information subpoena from your attorney.
Q: Can you locate accounts associated with deceased individuals?
A: Yes. However, because deceased individuals do not maintain bank/brokerage accounts, the no-find guarantee is waived and you will be charged regardless of accounts being found.  Normally, once a bank has been notified the account-holder has passed, all accounts are frozen and account information is limited to the name and address of the bank.  On the occasion that the bank has not been notified, we will report any accounts associated with the subject's SSN.
Sample
Subject Data Submitted: Name: John Doe Date of Birth: 04/20/1977 SSN: 123-45-6789
Nationwide Bank & Brokerage Account Search Report Date: 10/31/2014
Search Results
Financial account information is obtained using a variety of techniques, all of which are legal under the Gramm–Leach–Bliley Act (section 6802 (e)(3)(D) and does NOT involve any pretext to the financial institution or the customer. Other accounts may be held by subject under different information than used to conduct this search. These results are confidential and may only be shared with client's attorney. This report cannot be used for FCRA Regulated purposes to determine the eligibility for credit, insurance, employment or any other purpose regulated under the FCRA.
A diligent search was conducted for any cash and investment accounts matching the provided information of the subject. The following account(s) were located and found to be open:
Chase Bank
132 Parkway Road
Bronxville, New York 10708
CHK: $68,355.00
Last Deposit: $11,135.00 on 11-11-2014
Sterling National Bank
512 Fashion Avenue
New York, NY 10018
800-421-4225
CHK: $19,325.00
Last Deposit: $575.00 on 11-10-2014
TD Ameritrade
1005 N Ameritrade
Bellevue, NE 68005
Cash value: $12,980.00
Total value: $312,650.00
American Funds
P.O. Box 6007
Indianapolis, IN 46206
800-421-4225
Account value: $1,354,455.00
IRA Account
No other bank or brokerage accounts were located associated with subject's name and SSN.
Billing: Client has been charged an additional $200.00 for a total of 4* accounts located.
*We do not charge for accounts found without balances or account balances of less than $100.
Note: This is a sample of a typical returned search, however actual results may vary.
How Docusearch Results Compares to Others
Docusearch:
100% legal, affordable and accurate; hand-searched by licensed investigators.
We have access to protected information usually reserved for law enforcement.
We comply with all financial privacy laws and regulations.
Others:
Most often, others are not licensed investigators; they're information brokers.
Others only have access to public records and search only local banks & brokerages.
Be careful, you could be liable for how the "Others" handle financial privacy.
Reviews
Nationwide Bank and Brokerage Search Rated 4.85 out of 5 based on 40 ratings and 40 customer reviews. The reviews provided below were submitted by actual Docusearch clients who have purchased this search and have expressed their opinion.
Nationwide Bank and Brokerage Search Reviews
"Fast results that no one else could find"
5/5 Stars
Reviewed07-31-2017 19:46:13, by CliffS I spent over $1000 on other companies that claimed they could get me bank account information. None of them came close to giving me any useful information at all. Docusearch.com found accurate information and delivered it quickly. They are now my go-to asset search company.
"Thank you so much for your help!!!!"
5/5 Stars
Reviewed08-03-2016 18:24:04, by Grateful Mother Thank you so much for your help! Now I will submit this to my case manager! My daughters father abandoned my daughter and has hid from us for 7 years and refused to comply with any of the judge's orders. Thank you so much! I thought I would have to get someone to follow him... I don't know how to thank you.. I can get this information to the state of Illinois now. We may never see a dime but now he is going to be held accountable for his actions. Good enough for me. This is not about money it is about integrity and having honor. God Bless!
"Five stars is not enough for docusearch"
5/5 Stars
Reviewed05-26-2016 16:45:51, by Happy under the Sun My ex tried to hide seven digits of cash in a divorce. Docusearch found the cash. Thank you ! Now we are going to do a brokerage search ! Every dog has his day.. We are going to give that dog his day.
"employment search"
5/5 Stars
Reviewed04-15-2016 17:21:34, by MariaF Search very effective - very satisfied- This service is professional, Not sure there is another quite like it. If you know in your heart that your search is entirely warranted -- then this one is for you.
"document search "
5/5 Stars
Reviewed03-10-2016 14:18:43, by MC Great search site. Very easy to use. Got information back very fast. Easy payment. Definitely will use this service again.
"Alimony"
5/5 Stars
Reviewed10-12-2015 21:31:34, by KathieG I had great reservations that you would be able to find my x-husband's place of work. I was so surprised when they found it. I was thrilled. Now to garnish him for past alimony.
"Thank you so much"
5/5 Stars
Reviewed06-24-2015 14:24:44, by MJ Dimarco I requested a bank account search on my soon-to-be ex-husband. Docusearch found accounts that have been hidden from me for years. I gave this information to my attorney and now will get the settlement that I deserve. Well done and thanks!
"Asset search"
5/5 Stars
Reviewed11-10-2014 20:28:02, by looahvul Ex is trying to quit paying nominal maintenance and I know he has hidden assets... results were quick and they did find one account I did not know about... I trust this company and will use them again!
"Hidden bank account search"
5/5 Stars
Reviewed10-14-2014 20:42:22, by AprilN I am going through a divorce and had a nagging feeling there might be hidden money involved. I read the reviews about Docusearch, being a little leering of doing something like this online. The reviews that I read were all very good. It is nerve-wracking entering into something like this about someone you used to trust with all your heart, but I had to ease my mind. The representative was very helpful and put me at ease. The results came back much quicker than I expected and although there was nothing I didn't already know about, I do feel better and more knowledgeable going in to the divorce because of Docusearch.
"Current Employer on Deadbeat Ex"
5/5 Stars
Reviewed07-18-2014 22:32:56, by pmynx I can\'t call to verify this employment until I have garnishment papers ready to go but if this is accurate I cannot say how grateful I am! 4 years of trying to hunt him down and you found him in two weeks! (I hope) Thank you so much! Update: And they confirmed that he is employed there! Truly, I have hired two different investigators to sit outside his house and 1000.00 later, got nothing. I am telling all my attorney friends about you! Thanks so much.
"Prompt response"
5/5 Stars
Reviewed06-13-2014 20:51:53, by Bodie8 I have been trying to collect on a judgement, and have had a difficult time moving forward. I needed the defendant\'s SSN to continue the process, but found it difficult to obtain, and got little help from my attorney. Docusearch to the rescue! I got a confirmation call shortly after my order, and received my results a few hours later. I was pleased with the prompt response and professional conduct.
"Thanks, Docusearch"
5/5 Stars
Reviewed05-02-2014 18:51:37, by Anonymous It is a surprise to me, the company not just only find our subject's employer but also verified the person through his co-worker. I feel very happy and satisfy the reliable result. I can really rely on Docusesrch from now on to search more people's employer. So, I can collect the judgement debt easier.
"Excellent service"
5/5 Stars
Reviewed03-18-2014 00:14:46, by Satisfied customer Your company provided excellent service and gave me the information I could not obtain elsewhere in order to have a Sheriff serve a wage attachment.
"Happy!"
5/5 Stars
Reviewed05-28-2013 18:18:51, by Anonymous Prompt turn around.
"Private investigators did their job!"
4/5 Stars
Reviewed09-23-2012 05:59:47, by brettreil These private investigators are great, everything I needed to know was sent to me within one day and the results were 100% accurate. Thank you docusearch.
"Very helpful"
3/5 Stars
Reviewed09-20-2012 22:22:36, by jimf Great results and quick service. I would use this service again and recommend it to others.
"Found my new favorite website!"
5/5 Stars
Reviewed09-08-2012 04:48:35, by Jonathan Quick and accurate results. I placed my search this morning and got my results this evening. Everything was very simple and docusearch retrieved everything I was looking for. Very happy customer.
"Thank Goodness for Docusearch!"
5/5 Stars
Reviewed08-22-2012 23:47:14, by Rachel A I found Docusearch when I was considering investing in a business. I sent in the required information and just one day later I was surprised to find that there was a detailed bankruptcy record being hidden from me. Without this search I could have invested in a lemon, thank goodness for Docusearch!
"Hidden assets search worked great"
5/5 Stars
Reviewed07-28-2012 12:47:55, by DaleRa7 I stumbled upon docusearch's hidden asset search while going through a divorce. The information I recieved was thorough and accurate, and I was extremely pleased with the service overall.
"Saved me a lot of time and frustration!"
5/5 Stars
Reviewed07-28-2012 12:47:25, by Laura I used the current employment lookup to find the place of employment for my deadbeat ex to obtain outstanding child support payments. I received the results quickly and they contained information I could have never found on my own. Very impressed with the service.
Docusearch How To
Relevant articles, advice and commentary to help your investigation.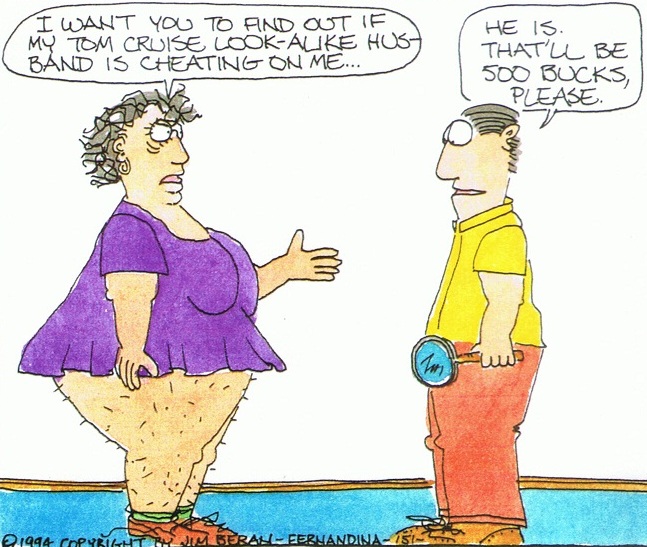 It may sound like something out of a spy movie, but finding hidden assets and looking for hidden bank accounts is a big part of real life, too. Even if they're not doing it for any kind of criminal reason, lots of people hide information about themselves — especially when it comes to their assets.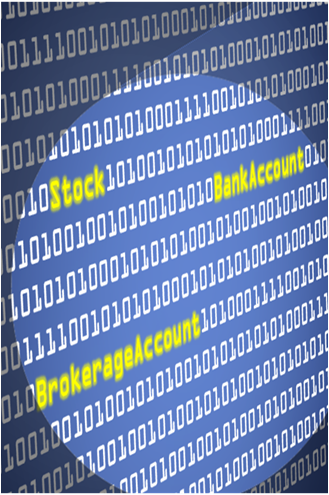 There are specific instances where it's perfectly legal to locate bank and brokerage accounts and search for assets.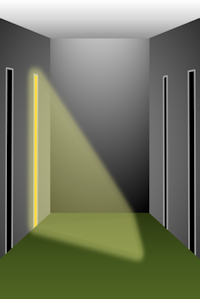 If you need to verify where someone is employed, you're probably not too happy about it.  After all, employment checks are usually done after something has gone wrong — like when your ex skips out on his child support payments … Continued