Details
Includes:
All recorded bankruptcies
You select the state to search
Up to 10 records matching submitted criteria will be returned
What's Needed:
Subject's name and state to search
No out-dated database is used! Obtained directly from the source, this search will return all bankruptcies filed by name within a specified state. It is optimally ordered when it is necessary to know whether an individual has filed bankruptcy. Information does vary from state to state and may return such items as subjects address, file number and date, court location, attorney, amount and type of bankruptcy. This bankruptcy search contains up-to-date information on all bankruptcy filings, discharges, dismissals and conversions. Complete bankruptcy information is collected from all Federal Bankruptcy Districts on a daily basis. Each bankruptcy filed is tracked on a case-by-case basis in order to collect all filings, discharges, dismissals and conversions.
Bankruptcy Filings By State
Provide us with:
Subject's name and state to search
Privately hand-searched and includes:
You select the state to search
Up to 10 records matching submitted criteria will be returned
All recorded bankruptcies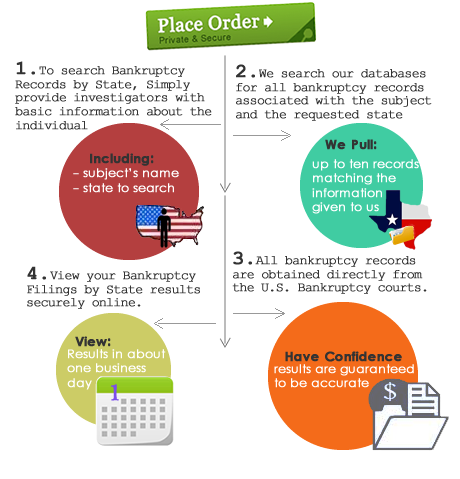 Record Source:
Bankruptcies are obtained directly from the U.S. Bankruptcy Courts
Record Coverage:
Contains bankruptcy recordings from 1992 to current date.
Helpful Record Definitions:
Chapter 7: A bankruptcy action which provides for straight liquidation of a debtor's financial liabilities.
Chapter 11: A bankruptcy action generally filed by business (but may be filed by consumer) which gives the debtor a chance to reorganize financial affairs in the hopes that the reorganization will allow the debtor to repay the debts
Chapter 12: A bankruptcy action used when family farm owners become insolvent.
Chapter 13: Also known as a "wage earner" plan. This is a bankruptcy action that provides for partial or full repayment of the debtor's liabilities.
Sample
Subject Data Submitted
Subject Name: CELINA SMITH
State to Search: Florida
Bankruptcy Filings by State
Report Date 12/15/2014
Results Found
Search Results
The following information has been being reported by a proprietary database, updated daily.
| | |
| --- | --- |
| Bankruptcy Case Information | |
| Filing #: 20031508 1659 | Filing Date: 6-15-2012 |
| Filing State: Florida | Filing Type: BANKRUPTCY |
| Recorded Date: 6-15-2012 | Bankruptcy Type: Chapter 13 |
| Docket #: 0817024 | Trustee: ELIZABETH SV ROJAS |
| Recorded Date: 6-15-2012 | Bankruptcy Type: Chapter 13 |
| Assets Available: Y | Closed Date: 9-30-2012 |
| Debtor Name: CELINA SMITH | Debtor SSN: 123-45-XXXX |
| Debtor Address: 14924 KITTRIDGEST MIAMI, FL 33412 | |
| | |
END OF REPORT
Note: This is a sample of a typical returned search, however actual results may vary.
How Docusearch Results Compares to Others
Docusearch:
Hand-searched by licensed investigators and returned the same business day.
Databases updated daily from protected sources, normally reserved for law enforcement.
No subscription or sign-up fee. Simply pay a one-time $29 per search.
Others:
You do the searching. Plus you have to sift through mounds of irrelevant data.
Others use outdated databases only containing old public records sometimes many years old.
Others require you to pay a monthly subscription fee to access their data.
Reviews
Bankruptcy Filings By State Rated 4.85 out of 5 based on 14 ratings and 14 customer reviews.
The reviews provided below were submitted by actual Docusearch clients who have purchased this search and have expressed their opinion.
Bankruptcy Filings By State Reviews
"Always accurate. Always fast."
Reviewed12-05-2012 00:40:48, by

Peter K.

Always accurate. Always fast. Very pleased.
"Great Results"
Reviewed10-31-2012 17:49:13, by

DanC

Thanks for the information. It was very timely
"Great Service"
Reviewed09-12-2012 19:54:25, by

AmandaL1

I was pleasantly suprised by just how easy it was to do a civil court records search. I recieved my results in a prompt and timely manner, and I found the customer service to be excellent.
"Results Came Back Fast!"
Reviewed08-28-2012 18:40:35, by

KelW99

I was very impressed with how quickly the results came back for my civil court record search. Not to mention this is the only investigation company I found with a satisfaction guarantee.
"This site is great"
Reviewed08-27-2012 14:55:44, by

Samantha

I was having difficulties finding the information on other websites. Docusearch found my information right away and saved me a significant amount of time. I'm glad I used their private investigators for this one.
"Outstanding Customer Service"
Reviewed08-26-2012 11:16:16, by

Ramona C

I came to docusearch for a real property lookup, and I was pleasantly suprised by their user friendly website. Upon calling to place my order I was greeted by friendly customer service who were both polite and thorough. When it comes to my private investigation needs in the future, I will only go to docusearch.
"What a Fantastic Search"
Reviewed08-24-2012 03:35:45, by

Monty

Upon opening docusearch's website it was clear to me that they were user friendly. I ordered a real property lookup and I was extremely satisfied to recieve my results shortly after placing my order. The customer service was great, and I will absolutely order from docusearch again.
Docusearch How To
Relevant articles, advice and commentary to help your investigation.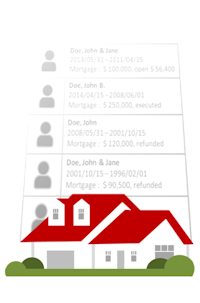 Maybe you're trying to find out if your ex is hiding assets from you. Or, maybe you want to know how much that potential business partner is really worth. Or, maybe you're thinking about suing someone, but you want to … Continued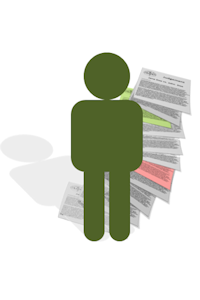 At last count, there were more than 15 million lawsuits filed in the U.S. every single year. That comes out to a new lawsuit every two seconds! While some of these cases have merit, many of them are filed by … Continued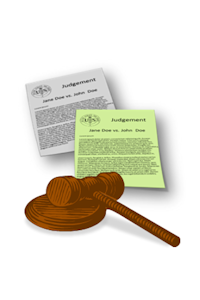 Whether you're looking for a new business partner or a tenant to live in your rental home, you want to make sure that the person you're dealing with is responsible with their money. After all, entering into any kind of … Continued