Details
Includes:
Reported aliases & A.K.A.s
Subject's age & DOB
All previous and associated addresses
Associated phone listings for addresses
Possible relatives at each address
Bankruptcy filings
Real property owned
Neighbors & former neighbors
Persons associated with listed addresses
Possible relatives by name
Possible relationships
National criminal records
Associated email addresses
Registered vehicles*

(*Database is available for CO, DC, FL, IL, KY, MA, MD, ME, MI, MN, MS, MO, MT, NE, NM, NY, ND, OH, TN, TX, WI, WY.)
Estimated Return Time:
Same business day (Normally about an hour)
What's Needed:
Subject's Full Name
Subject's Complete Street Address or SSN
Helpful: Subject's Date of Birth
A comprehensive background search is a compilation of many proprietary database searches and is designed to return a general overview of the subject's character and financial condition. The purpose is to identify possible areas of concern that may warrant further investigation. Address information is a combined collection of reported addresses recorded by all three major credit bureaus so dates may not coincide accurately. Not all databases are available in every state. Specific details pertaining to arrests or convictions may not be provided. If criminal records are the emphasis of your request, please consider a criminal records search instead.
Comprehensive Background Check
Provide us with:
Subject's Complete Street Address or SSN
Subject's Full Name
Helpful: Subject's Date of Birth
Privately hand-searched and includes: Extensive research performed
by a licensed private investigator
to get accurate results.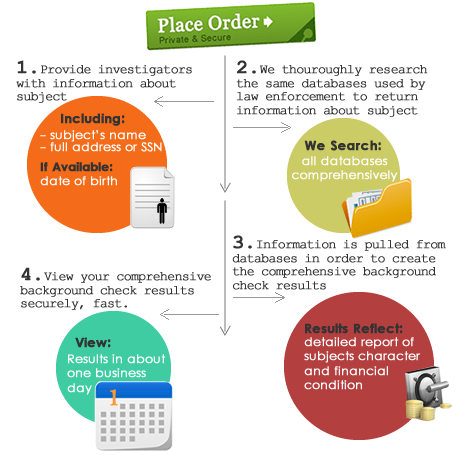 Comprehensive background checks are helpful for people looking to get an idea of who their target is in context to their records with property, bankruptcy filings, civil actions, court actions, criminal activity, and other information pertaining to their identity. Our private investigators research each request by hand, taking time to make sure that you receive accurate information. All searches are kept private and the person we gather information on will never be notified. Results are normally received in one business day, with guaranteed accuracy.
Sample
Subject Name: John Doe Address: 56 ELIZABETH ST, SALT LAKE CITY, UT 84102 Date of Birth: 04/20/1977
Comprehensive Background Check Report Date 01/02/2015 Results Found
SEARCH RESULTS
| | |
| --- | --- |
| JOHN DOE | |
| Sensitive Information | |
| SSN: 123-4X-XXXX ISSUED: 1996 in PA | DOB: 06/27/1990 Age: 24 |
| | |
| Possible Aliases | |
| JOHN J DOE, JH DOE, JOHNNY DOE | |
| | |
| Counties Subject Has Lived In: | |
| City: SALT LAKE CITY | County:SALT LAKE, UT |
Address History
Dates
11/30/2010 – 12/24/2013
56 S ELIZABETH ST APT 3, SALT LAKE CITY, UT 84102
(801) 906-0179
Dates
06/23/2009 – 12/30/2010
2240 W 3800 S APT J202, SALT LAKE CITY, UT 84119
(801) 973-0794
Dates
11/20/2005 - 07/2009
3331 WATERLOO, WEST VALLEY CITY, UT 84128
SSN Verification
Verified Status: Yes Status: Active
State Issued: PA Date Issued: 1996
Demographics
OFAC: N
Gender: Male
Occupation: Unknown
Ethnicity: Cauc
Education: Unknown
Area Data
City: GRanger
State: UT
Zip: 84119
Area Code: 801
MSA: 7160
County Name: Salt Lake
Time Zone: Arizona
County Seat: Salt Lake City
Population: 898,387
Housing Units: 295,141
Land Square Miles: 737
FIPS: 49035
Latitude: 40.6964
Longitude: 111.9502
Professional Licenses
NO RECORDS FOUND
Criminal Actions Involving Subject
RECORD FOUND
Offense Description
ASSAULT
Case Type
SECOND DEGREE MISDEMEANOR
Charge Filing Date
06/2013
Disposition
GUILTY
Disposition Date
06/2013
Offense Code
76-5-102
Court
SPANISH FORK DISTRICT
CASE TYPE
OTHER MISDEMEANOR
County/Jurisdiction
SPANISH FORK DISTRICT
Case Number
131300480
Civil Actions Involving Subject
Bankruptcies Exact Matches
NO RECORDS FOUND
Liens Exact Matches
Name: JOHN DOE
Filing Type: STATE TAX LIEN
Plaintiff:
STATE OF UTAH
Address: PO BOX 254, SANFORD, CO 81151
Case Number: 76907926
Court: SALT LAKE DISTRICT COURT
Filing Date: 3/25/2007
Judgments Exact Matches
Name: DOE, JOHN
Filing Type: CIVIL JUDGMENT
Plaintiff: LIBERTY ACQUISITIONS SERVICING
Address: 838 SKY LARK LN,
NORTH SALT LAKE, UT 84054
Case Number:110703188
Court: DAVIS DISTRICT COURT
Court: DAVIS DISTRICT COURT
Filing Date: 6/3/2011
Court Location:
FARMINGTON, UT
Property Owned by Subject
Record Found
Site:
Property Address
56 ELIZABETH ST, SALT LAKE CITY, UT 84102
Primary Owner:
JOHN DOE
Owner
56 ELIZABETH ST, SALT LAKE CITY, UT 84102
Site Address:
56 ELIZABETH ST, SALT LAKE CITY, UT 84102
Mailing Address:
56 ELIZABETH ST, SALT LAKE CITY, UT 84102
Assessor Market Value:
$249,140
Total Tax Amount:
$4,360.90
Total Assessed Value Amount:
$87,200
Relatives
Name: MARJORIE DOE Age: 34
Phone: (801) 906-0179
Common Residency
2240 W 3800 APT J202, SALT LAKE CITY, UT 84119
Concurrent Residency
Name: JOHN DOE Age: 56
Phone:(801) 966-9647 Apt: J202
Non-Concurrent Residency
Name: LAWRENCE J LAWSON Age: 37
Phone:(801) 111-1111 Apt: J202
Name: CECILIA SKIP PARRAS Age: 50
Phone:(801) 111-1111 Apt: J202
Name: MARIMIL M TULLEY Age: 50
Phone:(801) 897-0433 Apt: J202
Name: MARIALIE MANES MARTINEZ Age
:Phone: (801)
Neighbors
Subject At
56 S ELIZABETH ST APT 3, SALT LAKE CITY, UT 84102
Neighbors At
56 ELIZABETH ST 334, SALT LAKE CITY, UT 84102
Name: PAMELA G HOLLIDAY
Age: Phone: (801) 328-4151 Apt: 334
Name: CLARK JASON ROSS
Age: Apt: 3
Name: STEPHANIE POWELL
Age: 30 Apt: 4
Name: WILLIAM FRANCOM
Age: 30 Apt: 2
Vehicles
Name: JOHN DOE
Year/Make: 2000 Volvo V70 SE
Address
56 S ELIZABETH ST APT 3, SALT LAKE CITY, UT 84102
VIN: YV1LW61J3Y2717105
Plate: DP45CX
Expires: 06/16/2018
Email Addresses
NO RECORDS FOUND
Note: This is a sample of a typical returned search, however actual results may vary.
How Docusearch Results Compares to Others
Docusearch:
Hand-searched by experienced investigators and returned the same business day.
Databases updated daily from protected sources, normally reserved for law enforcement.
No subscription or sign-ip fee. Simply pay a one-time $79 per search with no future commitment.
Comprehensive because a wide range of criteria is searched
Others:
You do all the searching. Plus you have to sift through mounds of data not relevant to your subject at all.
Others access outdated databases only containing old public records. Why pay for this?
Others require you to pay a monthly subscription, sign-up fee, or both.
Others usually limit the search to publicly available information you could find on your own
Reviews
Comprehensive Background Check Rated 4.75 out of 5 based on 16 ratings and 16 customer reviews. The reviews provided below were submitted by actual Docusearch clients who have purchased this search and have expressed their opinion.
Comprehensive Background Check Reviews
"Saved me from a criminal tenant"
5/5 Stars
Reviewed08-31-2016 20:24:37, by CJ He seemed very polite and friendly. But the rap sheet was 10 pages long. What a mistake that would have been to rent to him! Very happy to have avoided that hassle.
"Fast And Efficient"
5/5 Stars
Reviewed01-14-2016 19:06:09, by Salvatore Gaglio The service was fast accurate and easy to use. WE provide services to the US Department of Defense and always need to be sure we know who we are hiring. Docusearch was the simplest and most cost efficient way for small business to remain compliant.
"Wow ! Now that's a background check!"
5/5 Stars
Reviewed06-24-2015 14:14:03, by Todd H I purchased a background check to search a perspective employee. The results I received from Docusearch were fast and extensive. I found out that the potential employee was a registered sex offender in another state. Boy, am I glad I checked. Thanks Docusearch.
"Pre-Hire Background Check Complete!"
5/5 Stars
Reviewed10-23-2013 21:50:09, by Laura H The pre-employment background check we ordered was money well spent. The report came fast and was easy to read. I will definitely use this service again.
"Good Information"
4/5 Stars
Reviewed01-09-2013 05:30:09, by Landlord35 I needed a comprehensive background check on a perspective tenant and docusearch was able to find me the relevant information. I wish there were more names associated with the marriage info, other than that I am very happy.
"I love the employee background check!"
4/5 Stars
Reviewed09-25-2012 13:31:36, by JordanC The employee background check saved me from hiring an employee who had numerous felony theft charges on his record, but thought that he could hide them on his resume. Without a background check I could have potentially put my business at risk by hiring this individual. I don't know what I would do without this service, Thanks again!
"Wow, that was FAST!"
5/5 Stars
Reviewed09-20-2012 00:13:20, by Calvin J. Docusearch has outdone themselves with their background checks. I have been a faithful customer for years and have purchased a few different background checks from them. It never ceases to amaze me how quickly I recieve the results, and I will most certainly be purchasing more services from docusearch in the future.
"great search"
5/5 Stars
Reviewed08-13-2012 17:44:48, by JayM Quick and accurate results
Docusearch How To
Relevant articles, advice and commentary to help your investigation.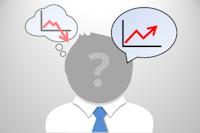 Don't hire "That Guy." You know, "That Guy" who you trusted and thought didn't need an employment screening. "That Guy" will end up costing your company money and haunt your hard-working employees. A poor hiring decision will do just that, … Continued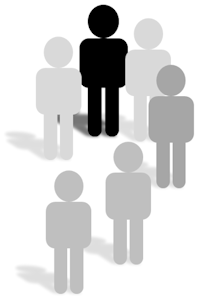 Ever since the Great Recession, the number of U.S. homeowners has dropped dramatically. Instead of reaching the "American Dream" and purchasing their own homes, millions of people are scared to invest in something as pricey as a home. Others might … Continued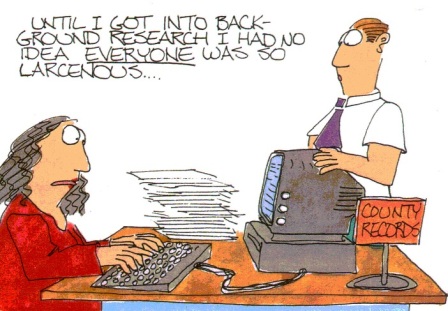 Are you skipping employee background checks?  You're putting yourself at risk! If you think that a pre employment screening is a little too "formal" for your company, think again.  By not running any kind of employee background check, you're putting … Continued