Details
Includes:
Name & address associated with 800 Number
Hand researched by actual investigators the 800 Number Lookup is guaranteed to return the responsible billing party name and billing address, as well as the ring-to number, (if number is not a dedicated toll free line), for any toll free number. Provided complete and accurate and subject data is submitted with order, this search is guaranteed to return the billing name and billing address of the submitted toll-free telephone number. There is a $25.00 research fee charged for all requests returning a no-hit, including an invalid number or number not assigned.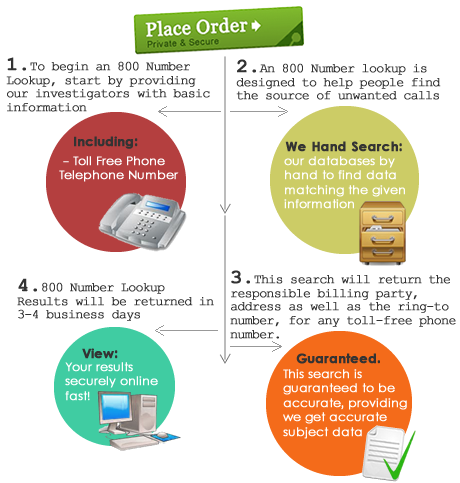 800 Number Lookup
Provide us with:
Toll-free phone number
Privately hand-searched and includes:
Name & address associated with 800 Number
Frequently Asked Questions:
Q: How do we perform an 800 number lookup?
A: Our private investigators scour credible sources for information leading to the accurate results for all 800 number lookup inquiries. As long as the accurate information has been given along with the inquiry, our investigators can find the information relating to the given 800 number.
Q: How long does an 800 number lookup take?
A: Returning accurate results takes approximately 2 to 3 business days.
Q: How accurate are the 800 number lookup results?
A: As long as the data given along with the 800 number lookup inquiry is accurate, we guarantee to return the billing name and billing address of the submitted toll-free telephone number. Please note, invalid data resulting in a no-hit search will result in an addition $25 research fee.
Q: What's needed for an 800 number lookup?
A: All we need is a valid toll-free phone number.
Q: What does an 800 number lookup return?
A: The name and address associated with the submitted toll-free telephone number.
Sample
Subject Data Submitted
Subject Phone #: (866) 555-1212
800 Number Lookup
Report Date 01/02/2015
Results Found
Search Results
THE FOLLOWING INFORMATION REFLECTS DATA REPORTED BY THE PHONE CARRIER.
| | |
| --- | --- |
| Phone Number Type: | TOLL FREE |
| Phone Number: | (866) 555-1212 |
| Phone Carrier: | VERIZON |
| Subscriber Name : | LAURA SMITH |
| Subscriber Address: | 43011 MEGAN LANE, OTIS, MD 20650 |
END OF REPORT
Note: This is a sample of a typical returned search, however actual results may vary.
How Docusearch Results Compares to Others
Docusearch:
Hand-searched by licensed investigators and returned within 2-3 business days. Plus, if current name and address is not found, you pay nothing.
Source from this search is from current phone carrier records containing the most current address information of record.
Simply pay a one-time $115 per search with no future commitment.
Others:
Others make you do the searching from databases stored on their server. Plus you have to sift through mounds of data not relevant to who you are looking for.
Others use outdated databases containing public records, only returning previous subscribers of the phone number.
Others want you to pay a monthly subscription fee.
Reviews
800 Number Lookup Rated 4.81 out of 5 based on 22 ratings and 22 customer reviews.
The reviews provided below were submitted by actual Docusearch clients who have purchased this search and have expressed their opinion.
800 Number Lookup Reviews
"Review"
Reviewed05-02-2017 20:45:55, by

Amanda Frangella

Not really what I was expecting, but the VIOP is always sketchy anyway.
"Amazing!"
Reviewed07-14-2015 21:59:05, by

Machi

I was hesitant to pay a little more but figured if I was gonna do it, it\'s best to not be in vain. Worked perfectly and very pleased!
"Reverse Cell Phone"
Reviewed07-06-2015 19:17:23, by

MiltC

I had been looking for the name of this person continually texting my wife and in less than 24 hours I had the name and address for this person.
"Thank You Docusearch!"
Reviewed07-30-2014 18:58:58, by

Sarah

I'm so glad I found this site! I did a reverse phone look up and was successful in finding out the last name (I already knew the first) of someone who has been stalking me. I got the info fast too....within hours. It's a bit pricey, but other sites I tried were unable to recover this guy's name from his phone number - so it's worth it for the peace of mind and knowing it's a legit site. Now I know where to go in the future should I need info on anyone!
"Great Phone Search!"
Reviewed06-23-2014 17:18:08, by

debbie

it really worked, you gave me piece of mind. Thanks!
"You Guys are Informative"
Reviewed01-17-2014 22:41:07, by

escott

I appreciate this kind of help- it is far better than any other information out there on the net
"Excellent Results"
Reviewed03-27-2013 18:32:26, by

Bruce

Docusearch returned the information I needed, as promised and on time. I had wasted valuable time (and some money) on a few online automated searches, and only Docusearch came through for me. Keep up the good work!
"Wow!"
Reviewed03-15-2013 20:29:41, by

Elizabeth

I cannot believe how fast you guys are! I thought it may have been yet another internet gimmic, but you are truly the best. Thanks
"Reverse phone lookup"
Reviewed01-01-2013 22:00:05, by

Kim

The report was quick and complete, including an associated po box- it even had notes regarding paperless statements and no physical address on file. Definitely a plus in locating the individual using an alias.
"I wish I found this search sooner!"
Reviewed09-26-2012 17:16:05, by

Corey

The phone number lookup available at docusearch is incomparable to its competitors. I tried a few different services to find the billing information related to a phone number, and docusearch was the only one to return accurate results quickly. I will absolutely use this search again.
"Extremely Satisfied"
Reviewed06-05-2396 23:35:54, by

MelissaTB

I was very happy with the phone number lookups available from docusearch. Upon placing my order I was greeted by pleasant customer service, and I was even more satisfied when I recieved accurate results in a prompt and timely manner. I will use this search again, for sure.
Docusearch How To
Relevant articles, advice and commentary to help your investigation.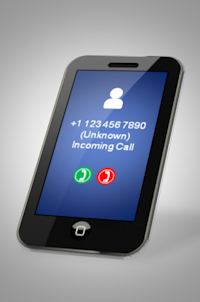 There's no doubt that caller ID has changed the world.  After all, when's the last time you got one of those, "Is your refrigerator running?" prank calls?  Unfortunately, though, there are times when even caller ID can't tell you who's … Continued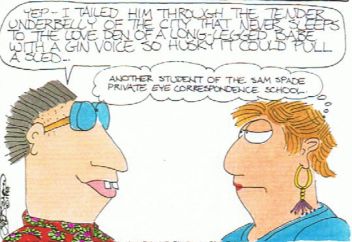 Here's How to Do It… If you're looking for basic answers and solutions, Google is a great place to go.  But when you're trying to do a cell phone number search, Google isn't going to be much help. So, … Continued