Wyoming License Plate Searches Aren't One-Size-Fits-All
Posted by on

September 19th, 2014


Updated on

October 24, 2017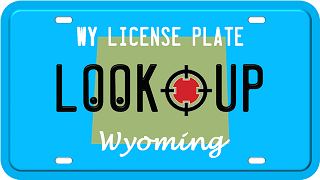 Google the term "Wyoming license plate search", and you'll be greeted with thousands of websites that promise to give you all the information behind that license plate number AND do it quickly and easily.
What To Look For
-In Brief-
Simply pick a website at random, and you should be good to go, right?
Wrong!
There is a huge difference from one license plate lookup service to the next. If you really want to make your search quick and easy — and get accurate information to boot — you've got to work with a service that's run by licensed private investigators.
Why?
– Licensed private investigators can access things that the others can't
In order to do an accurate Wyoming license plate lookup, the information has to come from the Wyoming Department of Transportation's current records. For every Wyoming license plate out there, they have a record of who the registered owner is, where he lives, when the license plate expires, the kind of vehicle that's registered to the license plate (including the make, model, and model year), and the vehicle's VIN number.
If you think this is some pretty sensitive information, you're right! And that's why the Wyoming Department of Transportation won't hand it out to just anyone. In fact, the only people they WILL give this information to are members of law enforcement and those with a private investigator's license. The people who run all of those other websites are simply out of luck. The best they can do is to get their hands on records that are a few years old. Those won't do you any good! What if the information has changed since then? You're stuck with the same unanswered questions you had in the first place!
 Wyoming License Plate lookup
– Licensed private investigators do the work themselves
Here at Docusearch, we don't have special software or other automated tools. Instead, we personally connect to the Wyoming Department of Transportation's current records and search for the information you need. That way, we can make sure we've uncovered all of the information about a specific Wyoming license plate.
However, the same can't be said for those other websites. That's because they use a bunch of automated tools to go through their databases and then spit out the information for you. Yes, working this way allows them to provide you with information in a matter of seconds. However, if the information is incomplete or inaccurate, it's of no use to you no matter how quickly you got it!
Those other websites like to say that it takes too long to have a licensed private investigator do your license plate search for you. However, we can do a Wyoming license plate lookup quickly and have the information back to you within one business day or less.
 How much is a Wyoming license plate lookup?
– Licensed private investigators don't surprise you with any price changes
If you've been looking for someone that can do a Wyoming license plate search for you, you've probably seen super-cheap and even free offers. Unfortunately, though, these sales pitches don't tell the whole story! Sure, it may be very cheap or free to type the license plate number into the search box, but actually getting your hands on the results is a whole other story! Many of these websites demand that you hand over additional money or even sign up for a subscription in order to get the results. In the end, you've spent way more money than you planned on!
Licensed private investigators who run a legitimate business don't act that way. Instead, you'll be asked to pay a reasonable one-time fee per search. (For example, here at Docusearch, we charge $39 for each Wyoming license plate lookup that you need done.) The money you pay will cover every aspect of your search, and you won't be asked to pay anything else.
As an added benefit, your money will be safer when you work with licensed private investigators. In fact, if we can't find the information you need — for any reason — we'll return all of your money. That doesn't happen with those other websites. As soon as you've handed over your money, you'll never see it again — no matter what problems pop up later!
– Licensed private investigators are real people
Take a spin around our website, and you'll see that we have a phone number, email address, and a Facebook page where you can contact us. So, if you have any questions, you can rest easy knowing there's a real, live human that can answer it. On those other websites, you'll be hard-pressed to find any contact information — meaning your questions will never get answered, and your problems will never get solved!
Don't let your Wyoming license plate search turn into a nightmare. Instead, turn to the team at Docusearch!