How To Search Property Records Online
Posted by on

September 13th, 2017


Updated on

July 21, 2019



Maybe you're trying to find out if your ex is hiding assets from you. Or, maybe you want to know how much that potential business partner is really worth. Or, maybe you're thinking about suing someone, but you want to make sure they actually have the means to pay off a judgment.
Article Highlights
In any of these situations — and countless others — doing a property ownership search can come in awfully handy.
But there's a right way and a wrong way to do these searches!
Unfortunately, most people think that because property records are available to the public, they're easy to comb through. That's simply not the case! If you're trying to get the real story on someone, you don't have the time or the expertise to go county by county looking to see if the person in question actually owns any property there.
But licensed private investigators do!
Whatever you do, though, don't confuse licensed private investigators with all of those internet databases you see advertising all over the place. Those websites rarely have access to the latest and most accurate information!
Plus, those websites usually aren't built to do a truly comprehensive search. Look at their fancy sales copy, and you'll see that most of them promise to give you instant results. All you need to do is put in some basic information, and a few seconds later, you'll supposedly have access to information about every piece of property that the person in question owns. But when you think about all of the records that they would have to go through, it's easy to see that it would be impossible to do all of that in a few seconds! Instead of giving you the best information, those websites offer you nothing but script-generated results. They're actually more impressive from an IT standpoint than they are from a legitimate investigative standpoint!
Making matters even worse, some of those websites promise that you can search through their property records search for free — and then they surprise you later by explaining that actually getting your hands on the results costs an arm and a leg!
How Do I Search Property Records?
Licensed private investigators don't work that way. Instead of charging you silly subscription fees, surprising you with hidden costs, or only giving you access to outdated information, they know how to search property ownership records the RIGHT way.
What exactly does that mean?
For starters, it means that they'll search through all of the necessary records by hand. That way, you can rest easy knowing that you're getting ALL of the real property records that apply to the person in question. Remember, leaving stones unturned in a situation like this can come back to haunt you later!
Luckily, licensed private investigators have access to information that's usually just reserved for law enforcement. And, they know exactly how to tackle all of the county assessor's records — including how to find information that was added that very day!
But if you're thinking that all of that hand-searching means that licensed private investigators work slowly, think again. OK, so they won't be able to give you the instant results that those sub-par websites do, but they'll work quickly. In fact, a good team can do a comprehensive property lookup and get the results to you in one business day. Sometimes, they can even work faster than that! Depending on what time of day you place your order, you may be able to get the property ownership records you need before the sun goes down!
But what about the cost?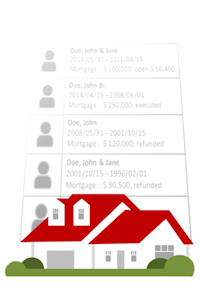 Property Records Search
Lots of people assume that having an entire team of licensed private investigators working for them is an expense that their budget simply can't bear. Luckily, though, that's not the case! Because they have the expertise to work quickly and efficiently, good investigators won't charge you an arm and a leg for their services. Instead, you'll make an affordable one-time payment for each property ownership search that you need done. You won't have to subscribe to any monthly services, pay any recurring charges, or worry about any hidden fees.
So, how do you get started?
That's actually up to you! Good private investigators will be able to take the most basic of information — like the person's name or a specific street address that you want to look up — and find the property ownership information that goes along with it. You won't have to worry about handing over a ton of sensitive information about the person in question — or worry about how you would even get all of that information in the first place!
Ready to get all of your questions answered?
You can get the very best property records search done simply by contacting the team at Docusearch. Their licensed private investigators have the training and the experience to give you all the answers you need!