How to Search Criminal Records Online
Posted by on

September 19th, 2017


Updated on

June 1, 2019



If you've ever tried to do search criminal records on a potential employee, tenant, or some other person you wanted to find out more about, you know it can feel like you're searching for a needle in a haystack.
What To Look For
-In Brief-
Even if you're willing to drive over to your county courthouse and pay to search their records, you won't be able to search criminal records that covers the entire state or country. That means you could miss out on valuable information.
But once you hire a team of licensed private investigators, your search becomes much easier!
However, it's important that you don't confuse private investigators with those instant searches you see advertised in every corner of the World Wide Web. Those instant searches may provide you with information with just the click of a mouse, but there's no guarantee it's going to be ACCURATE information. In fact, it's common for those instant search services to use old, outdated databases!
So, how do you search criminal records online on someone?
How To Search Criminal Records
You have to start by making sure your investigators have access to the right information. A good team will be able to search through resources that are typically just reserved for law enforcement. That means not only will you get accurate information, you'll get the most comprehensive search possible.
Just how comprehensive are we talking?
A good investigator will be able to organize your criminal records check by location. Specifically, they'll be able to do countywide, statewide, or nationwide searches. That way, you'll have access to any and all criminal records that exist for the person in question.
What's the difference between these searches?
If you've ever tried to do a criminal background check on your own, you were likely limited to a countywide search. You had to visit the county courthouse in person and sometimes pay a fee — and then you were stuck trying to make sense of everything! Unfortunately, misdemeanor and felony records are often housed separately, so you probably wound up doing double the searching, if you were able to find anything at all!
But when a good investigator does a countywide search, he knows exactly where to go. He knows exactly where to go to find information about arrests AND convictions for misdemeanors AND felonies. And, he knows how to do it efficiently. In fact, a good investigator can uncover this countywide information in just a few days.
On the statewide and nationwide searches, things work a little differently. A good investigator will still know exactly where to go (so you'll still get a very efficient search), but he won't be able to uncover quite as many details as he can at the county level. That's because state and national criminal records are normally limited to convictions, so if the person in question was only arrested — and not convicted — there may not be any record of it. And, state and national records are typically limited to felonies, so if the person in question has been convicted of a slew of misdemeanors, a statewide or nationwide search likely won't uncover it. Luckily, though, the nationwide searches can turn up criminal records that you can't find in other places — like the national sex offender registry and national security records. In fact, good investigators will have access to hundreds of different sources across the country!
OK, so how do you get the best results for YOUR specific situation?
The key is to talk to your investigators beforehand. They'll have the expertise to suggest which searches are best for your specific needs. For example, if you know that the person in question has lived in the same county for the past 10 years, there's probably no need to do a big nationwide search. But if you know that the person in question has moved around a lot over the years, it might be well worth your time and money to do a nationwide search.
Again, this is where those "instant" online search services fail. Those websites typically only offer one-size-fits-all searches, so you don't get to customize anything based on your specific situation. But when you work with a team of investigators, you get to talk to REAL people in advance. You won't be limited to a "Contact" button on a website that never seems to get a response.
What do you need to search criminal records online?
You'll need to provide the name and date of birth for the person in question. If you have his Social Security number, that will definitely help, but it's not required.
What about a price? Service that's this comprehensive sounds expensive!
Luckily, it isn't!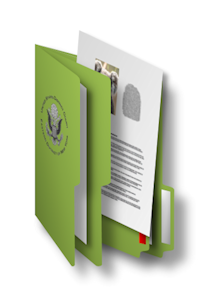 A good team of investigators understands that you don't want to have to pay an arm and a leg for important information. So, they'll do everything possible to stretch your money as far as possible — including doing a comprehensive nationwide search for less than $70! And, if you're only interested in county or state criminal records, the cost will be even lower.
At prices like that, moving forward with a professional criminal record check is a no-brainer! So, order a criminal record check, or call Docusearch at 800-474-5350 for more information.