New Mexico License Plate Search -- How Do You Get the Best Results?
Posted by on

September 18th, 2014


Updated on

October 24, 2017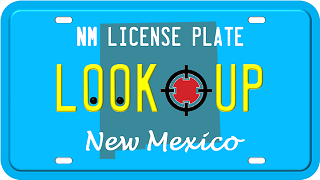 If you've taken the time to write down a specific license plate number, you've obviously got a good reason for doing so. Maybe you need to track down the person who hit your car and took off. Or, maybe you keep seeing a certain car all over town, and you want to know who's driving it. Either way, doing a New Mexico license plate search can give you the information you need — as long as you get the right people to do it for you!
What To Look For
-In Brief-
License plate lookups can be tricky, and all of the websites out there who promise you the moon and the stars only make things trickier. Here's how to get the best results from your New Mexico license plate search:
– Don't be impressed by instant results
On the surface, getting instant information about a license plate number sounds like the perfect solution. After all, you've got questions, and the sooner you can get answers, the better you'll feel. However, the answers you get from an instant result may not be accurate!
The websites that offer instant license plate lookup results simply use automated tools that are linked to their own database. The problem with that? Their database isn't the official source of information! The only way to get current, accurate information about a specific license plate is to get it directly from the New Mexico Motor Vehicle Division. Typically, the databases that these instant websites use are made up of old records that may or may not be accurate anymore.
Even if you're lucky enough to get accurate information from one of these websites, you may not get ALL of the information that you need. After all, everything is automated. No one is checking anything by hand or looking to see if there's more information out there that the automated tools missed.
– Understand what you can expect from a New Mexico License Plate Lookup
Like we've discussed, the only way to do an accurate New Mexico license plate search is to access the New Mexico Motor Vehicle Division's records. However, most of those lookup services can't do that! That's because the information is only accessible for members of law enforcement and people who have a private investigator's license. So, if you're dealing with a random website, they won't even be allowed to access the records that you need.
If you work with the right people, though, the sky is the limit as to what kind of information you can get! Here at Docusearch, our licensed private investigators can get:
– The name of the license plate's registered owner
– The registered owner's address
– The license plate's expiration date
– Detailed information for the vehicle registered to the license plate — including the make, model, and model year
– The vehicle's VIN number
– The names of any lien holders that are associated with the vehicle
(We can also get this information for you if all you have is a specific vehicle's VIN number, instead of the license plate number. Those other websites won't be able to help you with just a VIN number!)
Now that you know how the process works, it's easy to see why there's a big different in the service you get from licensed private investigators and all of those random websites.
 A cheap New Mexico License Plate Search?
– Remember that cheap doesn't always mean cheap
Most people who need a New Mexico license plate search done are drawn in by promises of very cheap — or even free — searches. Unfortunately, though, the vast majority of these searches aren't nearly as cheap as the sales copy says they are. Sure, you can spend a tiny sum of money to type the license plate number into the website's search box. However, when it comes time to actually see the results, you're forced to pay more money, sign up for a subscription, or deal with other surprises. By the time all is said and done, the search you did wasn't nearly as cheap as you thought it was going to be!
Licensed private investigators use a completely different approach. The good ones will charge you a reasonable one-time fee that covers all of the work you need done — from the searching to the results. For example, here at Docusearch, you'll only have to pay $39 for your New Mexico license plate lookup. And, if we can't find the information you need, we'll return your money.
Getting the best results means letting the best team handle your New Mexico license plate search. The team at Docusearch is as good as it gets!