Montana License Plate Lookup -- How to Get the Very Best Results
Posted by on

September 17th, 2014


Updated on

October 24, 2017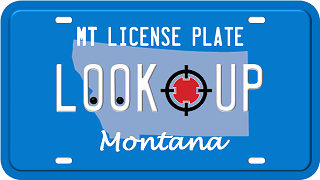 If you've got a Montana license plate number that you have questions about, the last thing you need your search to do is leave you with even more questions! Understanding at least a little bit about how the Montana license plate lookup process goes is important. Otherwise, you won't know how to spot the good services from the bad.
What To Look For
-In Brief-
If you want to get the very best results in your search, you need to:
– Only work with licensed private investigators
The Montana Motor Vehicle Division isn't going to hand over sensitive information like names and addresses to just anyone. In fact, the only people who DO have access to this information are members of law enforcement and licensed private investigators. So, if you want the real story behind that Montana license plate number, you've got to turn to the people who can give you legitimate, up-to-date information!
Because those random websites aren't run by licensed private investigators, they won't be able to give you the current records straight from the Montana Motor Vehicle Division. The best they can do is to give you information that's a few years old, which isn't very helpful. After all, the details may have completely changed since then!
In contrast, licensed private investigators (like the ones here at Docusearch) can give you a ton of current information. During the typical Montana license plate search, we can dig up the name of the plate's registered owner; his address; the expiration date of the license plate; the make, model, and model year of the vehicle that the license plate is registered to; the vehicle's VIN number; and any lien information that goes along with the vehicle.
The best part about working with licensed private investigators is that everything is done by hand. We don't use special software or other automated tools. Instead, we are computer-connected directly to the Montana Motor Vehicle Division.
Beware of instant results for Montana License Plate Lookup
If you Google the term "Montana license plate lookup", you'll wind up with a never-ending sea of websites that offer to give you the information within seconds. The biggest problem with that? Everything is automated! You don't have an actual human overseeing the process, so it's very possible that you'll end up with only a fraction of the information that's available. And considering that these websites don't have access to the current information, you'll wind up with a fraction of information that isn't even accurate!
No website can link to the Montana Motor Vehicle Division's current records and offer instant results. The only way to get the current information is to have access to the DMV direct. Luckily, though, that doesn't take very long. After all, as licensed private investigators, we've got a lot of experience doing license plate searches. We know how to make the process efficient — without cutting corners — so that you can get the information you need in a matter of hours.
Montana License Plate Lookup: Cheap isn't always cheap
If you've spent any time looking around at different Montana license plate lookup services, you've probably seen plenty of websites offering searches for a very low price. Unfortunately, though, that sales pitch isn't always accurate. Sure, you'll only have to spend a few bucks to type a specific license plate number into the search box — but when it comes time to actually see the results, you'll be asked to fork over more money. In the end, you could wind up spending a ton of money on search results that aren't even current. Ouch!
The easiest way to spot the legitimate license plate lookup services is to look for licensed private investigators that make it clear that you'll only have to pay a reasonable one-time fee. For example, here at Docusearch, we can do a Montana license plate search for you for $39. We will never ask you for more money to get the results, and if we can't uncover the information you need — for any reason — we'll give you a full refund. You'll never find terms like these on those random websites!
Stop wondering what the story is behind that Montana license plate or VIN. When you turn to the team at Docusearch, you can get all the answers you need!