License Plate Number Lookup: 5 Must-Knows before you Search [2019]
5 Things You Should Know Before Looking Up The Owner Of A License Plate Number
Read our guide below or start your search now:
This Guide provides everything you need to know when searching for the owner of a license plate and
gives you access to accurate results straight from the DMV.



We've provided an FAQ list below on

5 questions

you should know before placing a license plate lookup search.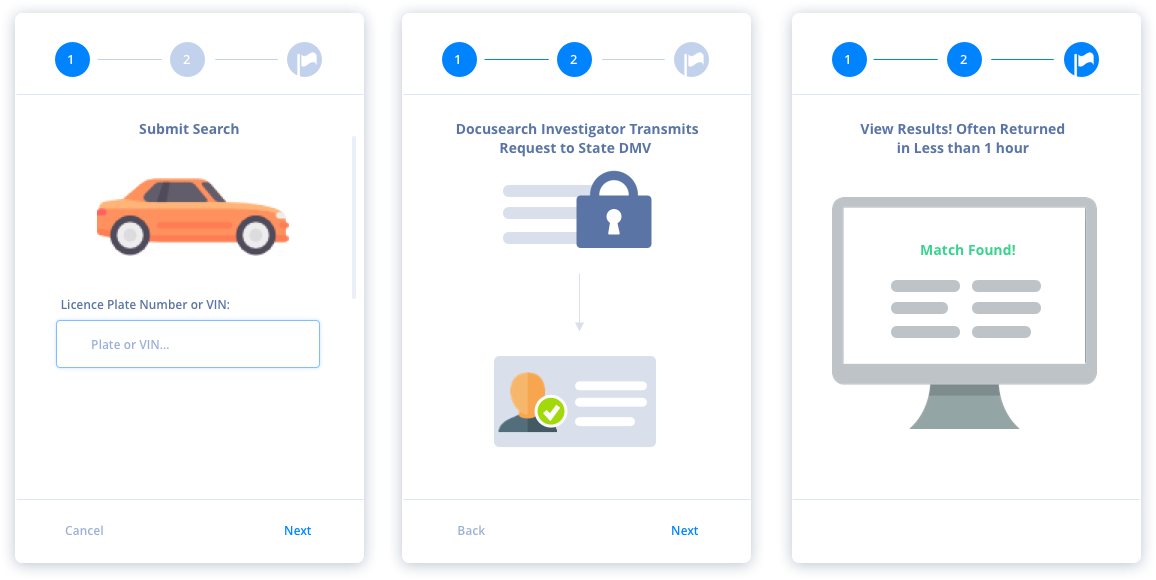 5 MUST KNOWS!
1. Finding the owner of a license plate number Only law enforcement and licensed investigators have access to the DMV and can legally perform a license plate search. So how can someone retrieve this information if it's not directly accessible to the public? There are two ways: the RIGHT way, which provides accurate & legally obtained results and the WRONG way which provides - well, wrong results. Finding the registered owner continued...
2. Legally searching for someone using a license plate or VIN In short, it is not illegal to lookup the owner of a license plate, provided you have a legitimate purpose. How a license plate search is legal...
3. The "Free" license plate lookup Buyer beware, there are many "free" license plate number lookup tools. While they are free to search, the results are NOT - nor accurate for that matter. Learn about free license plate searches...
4. Results you can expect from a license plate search This depends on the state, but results normally include owner's name, address, lienholder information and more. See details of a license plate search report...
5. One time payment vs subscription services With Docusearch, there is no subscription to purchase or commitment to further charges. Simply pay for the search you need and nothing more. Other's however...
Docusearch guarantee's a 100% accurate match. Select a state below for quick results and peace of mind.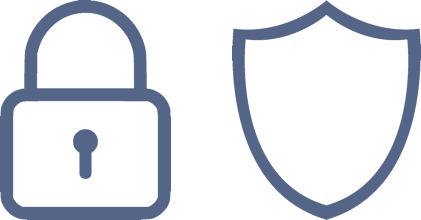 1. How can you find the vehicle's registered owner of a license plate number?
As we mentioned, there are two ways people typically lookup owner information using a license plate number or VIN.
Don't fall for "Instant" and "Free" scams
Let's look at the WRONG way first. It's easy to get drawn to "free" and "instant search" options available on the internet. However, If it's too good to be true, it normally is, and in this case it's no different.
Sure it's free to search, but it's NOT free to view the results. And while an instant search may seem attractive, you'd be better off just picking a name out of a hat.
These searches are not direct feeds from the DMV, they are historic records from old and outdated databases. We group these sites right with the 'get rich quick' schemes.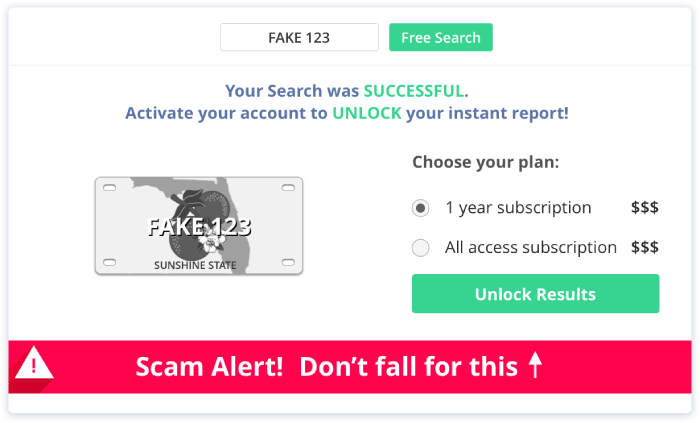 Use a licensed investigator on your behalf
Now the RIGHT way. You can legally obtain the owner information by a license plate number by using a licensed investigator to make the search on your behalf.
A licensed agent (like Docusearch) has access to DMV real-time records. So not only are you taking responsible measures to collect potentially sensitive information, you can rest assured that the results you get will be correct.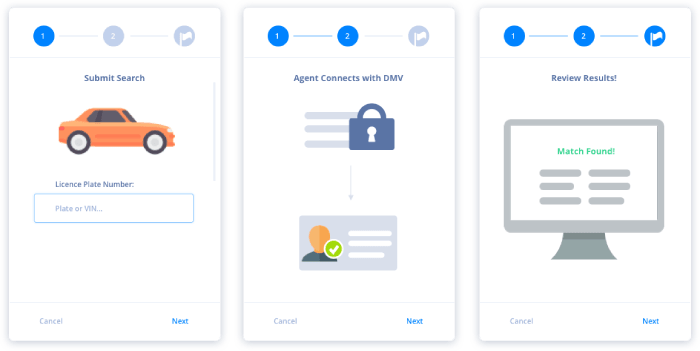 Provide investigator with either the license plate number and state or the VIN
An investigator service who is licensed in your state like Docusearch can perform a search with one of the two - license plate # or VIN. Simply submit this with a permissible reason for the search.
2. Is it illegal to lookup someone's license plate?
It's not illegal to obtain driver records assuming the purpose is permissible.
Safety, Accidents, and Litigation
If your purpose for a license plate search is for unlawful reasons then of course this would be a criminal act. However, most people who do require owner information of a license plate do so for the purpose of verifying personal information for litigation purposes, driver safety or 'hit-and-run' incidents.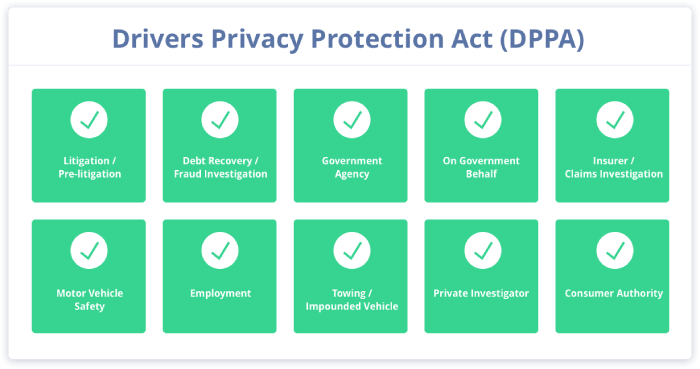 Federal Driver's Privacy Protection Act
You may be wondering, if it's not illegal then why isn't the information publicly listed on the web? We won't bore you with a comprehensive breakdown of the law, but the short answer is that vehicle records are governed by the Federal Driver's Privacy Protection Act.
3. Can I lookup a license plate number for free?
The old adage "you get what you pay for" has never fit so perfectly for this type of search service.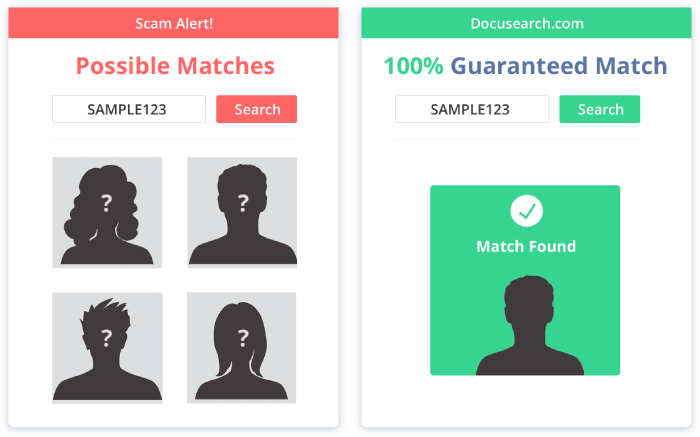 Truth behind free license plate searches
We've touched on this previously and don't mean to beat a dead horse but it's important to know that free license plate searches DO NOT mean free results.
Sites that advertise this do allow you to search for free but they conceal their results behind a paywall. BUYER BEWARE...there is a reason for this. It's because they want you to believe that they have the results you're looking for and in order to see them, you'll need to sign up for their database subscription service.
Avoid gimmicks with a licensed investigator
If you want actual results retrieved from your states' DMV, pay a small fee for a licensed investigator service and save yourself from the many gimmicks that litter the web.
4. What type of information can I retrieve from a license plate lookup?
While some states may vary, you can typically collect both owner and vehicle details using a registered license plate number or vehicle identification number (VIN).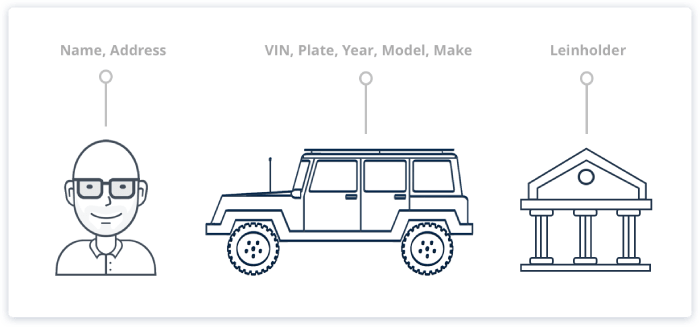 In most instances, information that is legally accessible to investigators via a license plate lookup include the following:
Registered owner's name and address
Vehicle information including VIN, plate, year, model, make, etc
Leinholder (legal owner) name and address, if provided
5. I only need to lookup one license plate number. What is my future financial commitment?
These Subscription Based Scam Services Don't Care About Your License Plate Lookup

They exist for only one reason; to sell you a monthly subscription to their database and charge you continually. That's their real business. At Docusearch, you only pay for the search you need and nothing more. No subscription and no commitment to future cost.
Docusearch guarantee's a 100% accurate match. Select a state below for quick results and peace of mind.