Iowa License Plate Search -- Keys to Success
Posted by on

September 19th, 2014


Updated on

October 24, 2017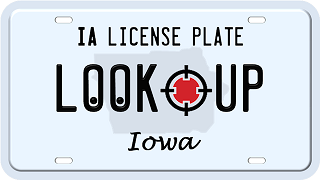 If you think you can just type an Iowa license plate number into a random website and find out all about the person behind it, think again!
What To Look For
-In Brief-
Iowa doesn't offer traditional license plate searches like most other states do. So, if you want your search to be successful, you have to follow these 4 tips:
1. Only trust a licensed private investigator
When you're dealing with those random websites, you don't know who's running them behind the scenes or what kind of information they can access. For all you know, the only records they have are several years old. That's not helpful!
A licensed private investigator, on the other hand, has access to things that most people don't. For example, the Iowa Department of Transportation will only allow licensed private investigators and members of law enforcement to have access to their records. That's an important piece of information to know because their records are the only ones that are current and accurate. If you actually want to get legitimate information from your search, you need someone that can get into the Iowa Department of Transportation's records!
2. Focus on the VIN number
As nice as it would be to hand us a license plate number and have us get to work, the records at the Iowa Department of Transportation make it a little trickier than that. Anyone who has access to them can only search using the VIN number of a specific vehicle, rather than its license plate number. So, if you only have time to jot down a tiny bit of information about the vehicle, make sure it's the VIN number!
 Iowa License Plate Lookup
3. Don't settle
The Iowa Department of Transportation's records are a treasure trove of information. Once we're granted access to them, we can tell you all kinds of stuff, including:
– The name of the vehicle's registered owner
– The registered owner's address
– Details about the vehicle (including the make, model, and model year)
– Details about any lien holders that are associated with the vehicle
Bottom line — if anyone tells you that your search will only fetch a small bit of information, don't believe them!
4. See those "instant" guarantees for what they really are
At first glance, getting instant results seems like the perfect solution. You're obviously very curious about this particular vehicle, so it only makes sense that you would want to get the results as soon as possible.
But there's no guarantee that your instant results are going to be accurate!
In order to provide you with instant results, a website doesn't have time to ask for permission to access the Iowa Department of Transportation's records and do a thorough search. Instead, they have to link automated software to their own separate database — and the information in it may or may not be accurate. Chances are high that your instant results will be outdated and completely useless.
There's also a good chance that your results will be incomplete. After all, what if the software makes a mistake? It's not going to be nearly as thorough as a human investigator is. And, since there's no one actually overseeing the automated search process, there's no one to double-check that you got all of the information that's out there.
 Iowa License Plate Search
5. Realize that a private investigator can work quickly
Just because you can't trust instant searches doesn't mean you have to wait weeks on end to get the results. Here at Docusearch, our investigators have the training and experience to do these searches quickly, without cutting any corners. As a result, we can get all of the information to you in 1-2 business days.
6. Be careful when you're comparing prices
If you do the cheapest search you can find, it may not end up being anywhere near as cheap as you thought it would be! That's because many of the websites out there advertise super-cheap searches — without telling you that you'll have to pay an additional fee in order to actually see your results. Other websites will make you sign up for a subscription plan in order to see your results. And, forget about ever getting your money back. Typically, these websites don't have a Contact page you can use to talk to them!
Licensed private investigators do things differently. For example, here at Docusearch, we make it clear that s our Iowa license plate lookup number is done for a one-time fee of $39. And, if we can't uncover any information (it's rare, but it can happen), we'll return all of your money. You won't find a guarantee like that on those random websites!
Getting your questions answered means turning your Iowa license plate search over to the right experts. You'll find them at Docusearch!