How to Get Great Arizona License Plate Search Results Every Time
Posted by on

September 23rd, 2014


Updated on

October 24, 2017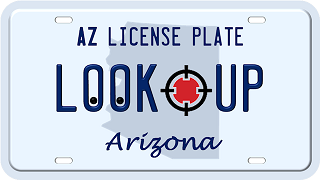 Whether you're curious about one specific license plate or there are a few license plates you need information about, the right Arizona license plate lookup service can answer all of your questions. But if you don't choose the right company to work with, you'll actually wind up with more questions than answers!
What To Look For
-In Brief-
Here's how you can get great results on every Arizona license plate lookup you ever do:
– Know what to expect
There's actually a lot of information lurking behind that license plate. As long as you've got the full plate number (or a vehicle's VIN number), a trained investigator can get you:
– The name of the license plate's registered owner
– The registered owner's address
– The license plate's expiration date
– Specific details about the vehicle that is registered to the license plate (including the make, model, model year, and VIN number)
– Specific details about any lien holders that may be associated with the vehicle
 Arizona License Plate Lookup
But as you can see, this information is very sensitive. In the wrong hands, it could be downright dangerous! That's why the Arizona Department of Transportation only lets two groups of people access it — members of law enforcement and people who have a private investigator's license. If you try to do an Arizona license plate search through a website that isn't run by anyone in those categories, you won't get information straight from the official source!
What will you get instead?
You'll likely get information that is several years old. That's actually the best these random websites can do, since they can't get into the official records. However, in just a couple of years, all kinds of details can change, so there's a good chance the information you've paid for is completely useless!
Bottom line — if you want accurate information, you have to get it from a licensed private investigator.
 What about "instant" Arizona License Plate Lookup results?
– Ignore the instant results
If you're that curious about a license plate, it would make sense for you to use an Arizona license plate lookup service that offers instant results. Unfortunately, those instant results may not actually be correct!
Why not?
Remember, licensed private investigators have to ask for — and get — permission to access the Arizona Department of Transportation's records. Then, they have to take the time to actually look through the records and send you the information. This isn't something that can happen in a couple of seconds. (Instead, here at Docusearch, it takes about one business day or less, to get it all done.)
But since those random website owners can't access the official records, they rely on two things — automated software and databases that they created themselves. Unfortunately, their databases are only as good as the information they've managed to get their hands on, which tends to be old, as we've already discussed. Then, they have the software scan through it and spit out the information. The problem? There's not even anyone checking to see if it's correct. If the software made a mistake, you'll never know!
When you look at it that way, getting instant results might actually make your curiosity even worse. After all, you'll always wonder if it's really right and if you really got all of the information that was available!
– Watch your wallet
One of the more disappointing results of a bad Arizona license plate search is spending way more money than you had budgeted! And, unfortunately, this kind of think happens all the time on those random websites.
How is that possible?
The secret lies in the sales copy that you find so irresistible. You're pulled in with promises of cheap (and even free!) searches, completely unaware that those cheap rates only apply to the search itself. If you actually want to see the results, you've got to pay more money — or even sign up for a subscription. In the end, all of those hidden fees add up quickly, and you're left with a gaping hole in your budget!
If you want a service that's going to treat your wallet with respect, you need to work with licensed private investigators because they don't resort to the same tricks. For example, here at Docusearch, we make it clear that we only charge a one-time fee for our Arizona license plate searches ($39, to be exact). That payment covers all of the work we need to do, and if for some reason we can't get the information you need, we'll return your money.
Whether you need one Arizona license plate search or 100, the team of licensed private investigators at Docusearch can make sure that you get great results every single time!