Florida License Plate Lookup -- 4 Tips to Keep Them Quick and Easy
Posted by on

September 23rd, 2014


Updated on

July 17, 2018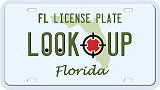 With so much information available on the world wide web, it makes sense that you'd be able to get an entire Florida license plate lookup done in just a few mouse clicks.
What To Look For
-In Brief-
Getting the results you need can be quick and easy — as long as you follow these 4 tips:
1. Finding out where the information comes from
Even though there are Florida license plate lookup services in every corner of the web, the most accurate, most current information can only come from one place — the Florida Department of Motor Vehicles. If your search service can't access their records, there's no guarantee that any of the information you get will be useful.
Why wouldn't they be able to access the official records?
Because the Florida Department of Motor Vehicles doesn't hand information out to just anyone! After all, this is some sensitive stuff we're talking about. Only members of law enforcement and people with a private investigator's license will be able to get into the state's records. Once they do, though, you'll be able to learn:
– Who the registered owner of the license plate is
– Where the registered owner lives
– When the license plate expires
– Specific details about the vehicle that is registered to the license plate (including the make, model, model year, and VIN number)
– Specific details about any lien holders that are associated with the vehicle
And, just to be even more helpful, a good investigator will be able to dig up the same information even if all you have to go on is a vehicle's VIN number, instead of its license plate number. However, if the license plate search service you're working with isn't run by licensed private investigators, they won't be able to access any of this information for you — no matter what you provide for them in the beginning!
 Instant results for Florida License Plate Search?
2. Avoiding instant results
You're probably inclined to think that it doesn't get any quicker or easier than results that pop up in an instant. Unfortunately, that logic doesn't apply when you're talking about Florida license plate searches! That's because those instant results are the byproduct of two things — private website databases and automated software. And when those two things come together, the result can be a mangled mess!
How so?
Remember, the only official records belong to the Florida Department of Motor Vehicles. But since these records aren't accessible to most people, the people running those random websites have to get their information from somewhere else. So, they get a bunch of old records and use them to create their own private database. They don't mention that the information is several years old, though. Instead, they brag about having a big database that's all theirs.
Where does the automated software come in?
That's what these websites use to scan through their database every time a new Florida license plate search request comes in. The software is able to go through the records and spit out information in just a couple of seconds. The problem? There's no human oversight! No one's checking to make sure that the software found ALL of the information that exists for a certain license plate — or even that the software found the RIGHT information for a certain license plate!
 How long does a Florida license plate lookup take?

3. Sticking to a tight schedule
Just because instant results aren't good doesn't mean you have to bide your time and wait days on end for the results of your Florida license plate lookup. Yes, it will take a licensed investigator a little longer to personally look through the official records and get the results to you, but it's still a quick process. In fact, here at Docusearch, we can get everything to you within one business day or less. So, if someone tells you it's going to take days or weeks to do your search, remember that you can do better!
4. Paying a one-time fee
The legitimate investigators won't surprise you with a bunch of hidden fees. Instead, they'll make it clear that their services are paid for with a one-time fee. For example, here at Docusearch, a one-time fee of $39 covers all of the work we need to do on your Florida license plate lookup, from doing the search to providing you with the results.
The random websites don't work that way. Oftentimes, they'll charge you a very low search fee — without mentioning that you'll need to pay more if you actually want to see the results, and not just type things into the search box! In some cases, websites even make you sign up for a subscription before you're allowed to see your search results. In the end, you wind up spending a whole lot more than you budgeted for — and there's nothing quick and easy about that!
Don't let your Florida license plate search become complicated or stressful. Instead, get quick answers from the team of licensed investigators at Docusearch!