Here's How to Make Your District of Columbia License Plate Search Worth It
Posted by on

September 15th, 2014


Updated on

October 24, 2017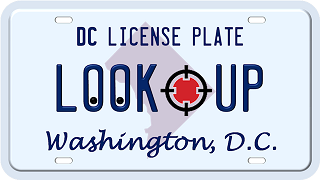 Need to know who's lurking behind that District of Columbia license plate? The answer is only a few mouse clicks away. Unfortunately, though, if you make those mouse clicks on the wrong website, you could end up with a major mess on your hands!
What To Look For
-In Brief-
Google the term "Washington DC license plate search", and you'll have thousands of results staring back at you. The majority of them are from websites that promise to give you cheap, instant results so that you can get the information you need and get on your way.
The only problem? It's not nearly that simple!
The DC Department of Motor Vehicles will only release current information to law enforcement and licensed private investigators. So, if you're searching on a random website, you're not going to be able to find out who the registered owner of a specific license plate is — no matter what kind of fancy sales pitch they give you! Instead, you have to turn to a team of licensed private investigators to uncover the information for you.
What exactly can they dig up?
As long as you've got a DC license plate number (or a VIN number), licensed private investigators can see who the registered owner is, where the registered owner lives, along with information about the specific car the license plate is attached to — like the make, model, year, and even any lien holders that are associated with it. And, if you don't already have the VIN number, your team of investigators will be able to get that for you, too.
How long will a DC License plate lookup take?
Good private investigators know better than to take shortcuts. Instead of relying on software and other automated tools, they do their District of Columbia license plate search by hand. Docusearch is directly connected via computer to the DC DMV. As a result, you'll have all of the information you need on the same business day you place your order!
But what about those instant results that the other websites promise?
Unfortunately, those promises don't tell the full story. Yes, you'll get results from them in a few seconds, but they won't be accurate. Remember, only licensed private investigators and law enforcement can access the District of Columbia Department of Motor Vehicles' records. The random website you're on will only be able to provide you with old information. Who knew "instant" could be such a waste of time?!
How much does it cost?
With all of the personalized service you'll get during a good District of Columbia license plate search, you probably think it's beyond your budget. Luckily, that's not the case! Good private investigators will only charge a one-time, affordable fee. (For example, the team of licensed private investigators at Docusearch will do a Washington DC license plate lookup for just $39.)
The price is yet another way that good investigators are different from their random website counterparts. On the vast majority of those random websites, you'll wind up paying a bunch of hidden fees, or you'll be roped into some kind of subscription plan. For most people, a subscription is a complete waste of money, because you don't need to look up that many license plates. Why go to all of the trouble and expense of a subscription when you just need some information about one license plate?!
District of Columbia License Plate Search
Even worse are the websites that offer to do a District of Columbia license plate search for free. Sure, it's free to type in the license plate number in question, but if you actually want to see the results, you have to fork over a bunch of money!
And, on most of those random websites, you won't find any mention of a price guarantee. If you don't get the information you're looking for, you're simply out the money. However, the good private investigators don't act that way. Instead, if they can't find the information you need — for any reason — they'll refund your money. It may sound like common sense, but unfortunately, it's anything BUT common in the license plate lookup world!
Ready to find out who's lurking behind that license plate? Order a District of Columbia license plate search from the team at Docusearch!