3 Tips to Give You the Very Best Delaware License Plate Search Results
Posted by on

September 19th, 2014


Updated on

October 24, 2017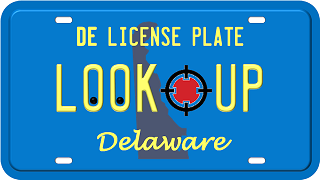 With all of the websites out there offering Delaware license plate lookup services, it's easy to wind up on a site that's not very helpful and, worse, not very honest. So, if you really want your search to fetch the very best results, you've got to do a little bit of homework.
What To Look For
-In Brief-
Specifically, you've got to follow these 3 tips before you agree to pay anyone a dime:
3 Steps to a Successful Delaware License Plate Lookup
1. Only accept results that come from the Delaware Division of Motor Vehicles
They're the only ones that have a current, accurate record of each license plate. In fact, when you pay an investigator to access their records, you'll be able to get:
– The name of the license plate's registered owner
– The registered owner's address
– The license plate's expiration date
– Specific details about the vehicle registered to the license plate (including the make, model, model year, and VIN number)
– Specific details about any lien holders that are associated with the vehicle
However, the key here is to pay an INVESTIGATOR to handle your Delaware license plate search. That's because the Delaware Division of Motor Vehicles will only give licensed private investigators and members of law enforcement access to their records. If you're dealing with a random website, they won't be allowed to access the information that you need! Instead, they've likely created a database of their own that's based off of old records, which may or may not be accurate today.
The legitimate investigators will make it clear that their search only focuses on the official records. If you come across a website that doesn't tell you where its results come from, keep looking!
2. Don't be impressed by instant results
If you've got questions about a particular Delaware license plate, it makes sense that you would look for a search service that can give you answers as quickly as possible. However, those instant results aren't as good as you might think!
First and foremost, it's unlikely that those instant results are even accurate. That's because they come from a random website's database, instead of the Delaware Division of Motor Vehicles. When we ask for permission to access the official records, it takes a couple of business days to get it and do the actual search. That means it's impossible for you to get official information in just a few seconds!
Plus, those instant results don't come with any human oversight. A variety of automated tools take the license plate number you've typed in, scan the website's database, and spit out the results. There's no one checking to make sure that a mistake wasn't made, or that there's more information out there that the automated tools didn't pick up.
On the other hand, licensed investigators will personally do the work for you. Here at Docusearch, an investigator will request access to the official records, then look through them himself to make sure that you're getting all of the information that exists. As a result, you'll never have to worry that you're getting an incomplete picture.
 How much is a Delaware license plate lookup?
3. Look for one-time fees
One of the most common tricks you'll see is websites offering to do a Delaware license plate lookup for a tiny amount of money. These websites reel in a ton of people with these promises, but unfortunately, they're not completely true. Yes, you will only have to pay a small fee to do your search, but once you actually want to see the results, you'll have to pay another fee. Some websites even force you into a monthly subscription before they'll give you the results! In the end, you wind up spending way more than you wanted to — and way more than the website made it sound like you were going to pay.
The good investigators will make it clear that they don't act that way. In fact, they'll go out of their way to stress that their fees are a one-time deal. For example, here at Docusearch, we can do each of your Delaware license plate lookups for just $48. Once you've placed your order, we won't ask you for any more money. In fact, if we can't find the information you need, we'll even return your money!
One final tip? Trust Docusearch's team of private investigators to do your Delaware license plate search. They'll make the process quick and easy!